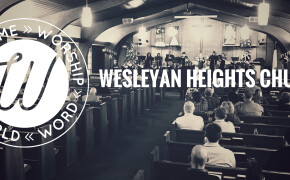 One Church, One Family
After careful consideration and discussion of the recent worship service survey plus conversations with many members of the congregation, the Lead Team recommends that Wesleyan Heights United Methodist Church have one worship service at 10:00 a.m. with Sunday School to follow at 11:15 a.m. Our new service schedule will begin May 6, 2018.
The Lead Team believes that one worship service will allow Wesleyan Heights to truly become one church again. It will also lead the congregation to better live the words spoken through our liturgy and communion:
One with Christ
One with each other
One in ministry to the world
Having one worship service plays to Wesleyan Heights' strengths, our diversity and our multigenerational congregation. It will give our congregation the opportunity to live into those strengths and God's light. It will benefit all of us to join our choir and our contemporary worship together.
The Lead Team feels one worship service will provide better movement for our church. Not only will one worship service meet our needs, but it allows us to put our best foot forward to connect with those who do not know Christ.
Wesleyan Heights has enjoyed a substantial growth in Sunday School attendance over the last several months. Having Sunday School at 11:15, following the worship service, will give the congregation a greater opportunity to connect with each other. In order to help create disciples, the congregation is always encouraged to spend at least one additional hour a week in small groups, whether it is Sunday School on Sunday morning, or through our many small groups such as brown bag, Wednesday morning breakfasts, knitting, or Bible study.
The Lead Team encourages each member to be in prayer as we begin this transition into one worship service on Sunday morning, May 6. Let us all join in Christian fellowship as we prepare to move forward in unity with Christ and with each other.
Pastor Kaury Edwards, Kathy Baker, Patsy Crady, Joyce Ann Evans, Marie Hicks, Sid Hudson, Jeff Johnson, Shawn Kand, Mae Leach, Cheri Morris, Robert Pritchard