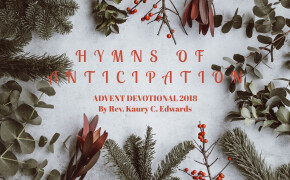 Advent Devotional 2018
Hymns of anticipation By Rev Kaury Edwards
The season of Christmas actually begins on Christmas Eve and lasts for twelve days, ending on January 6. (No, the twelve-day season of Christmas did not start with the song. It was the other way around.) The time before Christmas is Advent, a season of preparation for Christmas. Christians prepare for the birth of Jesus by remembering the waiting and longing of the Jews for a Messiah. In Advent, we're reminded of how much we also need a Savior, and we look forward to our Savior's second coming even as we prepare to celebrate his first coming at Christmas. The word "Advent" comes from the Latin word adventus, which means "coming" or "visit." In the season with this name, we keep in mind both "advents" of Christ, the first in Bethlehem and the second yet to come.
If you're unfamiliar with Advent, I expect it might feel odd to think of the weeks before Christmas as something more than Christmastime. For most of my life, Advent played very little role in my pre-Christmas consciousness. As a child, I did have Advent calendars: sturdy, decorative paper displays with 25 little "windows," one of which I would open each day of December leading up to Christmas. Sometimes Advent calendars are made of wood and feature twenty-five little boxes, each containing some little treasure. My Advent calendar was a way to whet my appetite for Christmas, not that I needed much help to get ready for my favorite day of the year, mind you.
I loved Christmas when I was young, partly because it celebrated the birth of Jesus, but mostly because it was a giant party in which I received lots of presents. In a sense, the Christian observance is a bit like my boyhood Advent calendars, though it has a much more serious purpose. It's meant to get us ready, not for a present-opening party, but for a transformational celebration of the birth of Jesus.
This year I have turned to the daily scripture readings from the Revised Common Lectionary. I have also used hymns form the United Methodist Hymnal, The Faith We Sing Hymnal, and The Songs of Zion Hymnal to illuminate our journey through this advent season. May this devotional be a tool in preparing us for that grand celebration of the birth of Jesus and remind us that Jesus will come again!